On July 14 twenty-four people registered their interest in joining the Cohousing Development Cooperative, and three more have since signed up online. Several of us, constituting the "agenda circle" for the group[*], have been hard at work planning the August 11 meeting as a first opportunity to practice sociocracy (or dynamic governance), which most people see as the best way to run a neighborhood or a cooperative over the long run anyway.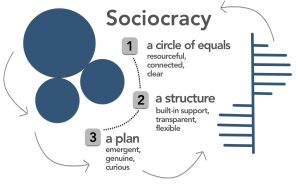 In the process, we've taken a crash course in the model, thanks to Rosemarie Stupel's series of bite-size videos and other presentations, which I propose to post online for the benefit of all co-op members.
This would be part of a new web site, for co-op members, where we can post profiles, projects, and activities — essentially an intranet, accessible to and usable by everyone in the organization.
It's worth pausing for a moment to recognize just how remarkable it is, that this number of people have already committed to working together to create a collaborative community development organization. Our proposal for the cooperative is posted here, along with a form that people can use to express their interest in joining the organization. But there's so much more that we can do, if we're willing to approach it imaginatively and systematically, in order to move most effectively into action.