Raising money to build an ecovillage in New Jersey
Kicking around some ideas for how to get folks interested in tomorrow's incredible concert — featuring three amazing singers — we thought about Mille Bojer's question in connection with the UN's 2030 Agenda "Transforming Our World": "what if we really meant it?"
That is — what if we could really raise a half million dollars to start building tomorrow's ecological communities, right here in New Jersey? What if we looked at towns Affordable Housing obligations, and joined other nonprofits in building affordable homes for people wherever commercial developers won't step up to the plate?
Tomorrow, at the Ecovillage NJ's Concert, we have 3 incredible vocalists singing their hearts out for the possibility that people can live, in community, as nature intended.
What if we really meant it? What if, tomorrow, we kicked off a campaign to raise half a million dollars as the seed money to start one or more Ecovillages in New Jersey? What if we launched a campaign to have Ecovillages dissolve the resistance to affordable housing in NJ? What if we caused towns to embrace Ecovillages as the way to integrate people from all socio-economic and ethnic backgrounds as responsible, generous and contributing members of the community?
What if our voices, in song, unleashed the vision of Ecovillage living as the way forward?
***Tomorrow***
Saturday, August 18: EVNJ Summer Concert
A continual challenge for our project is to be accumulating a "nest egg" toward an eventual land purchase. One way we try to do that is the Fun Way — an annual fundraising benefit concert. This year it will be held on Saturday, August 18, and it will feature a very special program.
Elaine Silver has performed at colleges, festivals, churches, clubs and children's events throughout North America and Europe. She was featured nationally on The Wisdom Channel and on New Jersey Network's program State of the Arts. A recipient of a Garden State Music Award for Outstanding Folk Performer, "Faerie Elaine" brings magic, love and blessings to her concerts. http://www.elainesilver.com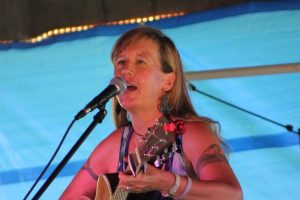 An award-winning songwriter, engaging performer and passionate environmentalist, Kathy Moser is dedicated to bringing positive change to the world through music, both on and off stage. For many years she was a principal with the Garden State Cohousing group, and she's supported our own project numerous times through appearances at benefit concerts and active participation. http://www.kathymoser.com/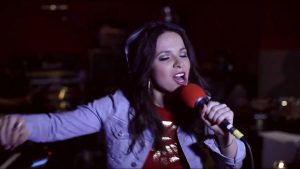 NJ-born Kyrie London is a singer-songwriter, artist, and activist, who is passionate about bringing people together through the healing power of music. Her collaborations with Grammy-winning producers and sound mixers have helped create her signature mix of pop, soul, dance, and hip hop. She appeared recently at the Grounds for Sculpture in Hamilton (Mercer County). http://www.kyrielondon.com.
Here's what you need to know
We'll start off with a potluck luncheon at Noon. Please bring a dish to share. The concert begins at 1.
Location: 8 Revere Drive, Bedminster, NJ 07921
If you find that you'll be out-of-town and can't make it, contributions are welcome at: https://www.facebook.com/donate/1892927930764804/ or https://www.ecovillagenj.org/donations/
Alternatively, checks payable to "CRCS-EVNJ" could be mailed to: Ecovillage New Jersey, PO Box 2029, Princeton, NJ 08543. Because of the non-profit status of our fiscal sponsor (CRCS, the Center for Regenerative Community Solutions) all such contributions are tax-deductible.
Sending in money is always appreciated, but the fun way is to see you in-person on August 18. Please try to join us for some wonderful music, food, and eco-camaraderie. Admission is free, but . . . remember to bring your checkbook!
For more information, call 908-581-8418 or 908-507-3150.