Register for the AfterParty on June 5!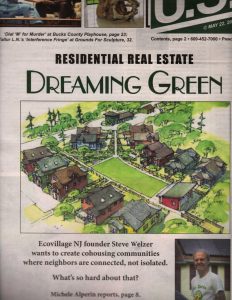 Under the banner headline "Dreaming Green," U.S. 1's latest issue features Ecovillage New Jersey on its front page, saying
"Ecovillage NJ Founder Steve Welzer wants to create cohousing communities where neighbors are connected, not isolated. What's so hard about that?"
The main article, "Ecovillage NJ: Fighting for a Commune Cause," by Michele Alperin, contains a few bloopers, but on the whole is positive, informative, and inspiring. It tells the story of Steve's early years and of his vision of creating sustainable and meaningful eco-communities in New Jersey, and describes much of what he and others are currently doing to make this vision a reality. Despite the headline, which fails to be accurate or clever (cohousing advocates aren't fighting, and aren't looking to create communes), the article is well worth a full read…
Key takeaways include:
Cohousing is one of three potential models of communal living: "the original kibbutz model," where everything is owned in common; the cooperative model, where residents buy shares in the coop but all the housing is rental; and the cohousing model, where people own their homes, pay a monthly maintenance fee like they would in a condo, and share the work of administering and managing the community.

Cohousing includes communally owned structures where people usually gather for two to four communal meals a week, hold meetings and other events or other activities, exercise, and do their laundry. Teams share cooking, serving, grounds maintenance, and finance, and this teamwork creates a "kind of interdependence that makes you know who your neighbors are and care for your neighbors. Proximity and interdependence are key to rejuvenating real community life," Welzer explains.
The article describes one of the best examples, Ecovillage at Ithaca, and notes that
PhD student Jesse Sherry from Rutgers University has found that these efforts result in the ecological footprint of EcoVillage residents being 70 percent less than that of typical Americans.
The article also cites comments by member Rosemarie Stupel, emphasizing that "There needs to be a core group of people who are both very committed to the idea and have some of the skill sets needed to push it forward." Also, for groups that value diversity, Stupel says they must ensure "some level of affordability. But most people are not necessarily in a place to have assets to buy the property."
Explaining what she is looking for in cohousing, Stupel says, "I share Steve's [Welzer] strong interest in living in harmony with the land and reducing our footprint. I think the goal would be to develop a cohousing community that is seen as a model for prioritizing people, green living, and having some elements of old version neighborhoods where people interact."
So despite some rather glaring missteps (how we wish journalists would refrain from associating modern cohousing with the communes of yesteryear!) the article overall does us proud, and moves the discussion forward on several levels — not the least of which is telling the history of the intentional community movement in general, and Ecovillage New Jersey in particular. Onward!