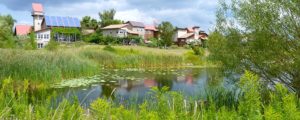 Last year our group sponsored a one-day trip to visit and tour the Ecovillage at Ithaca (EVI). This year our colleagues in the New York Back-to-the-Land / Ecovillage Movement Meetup are sponsoring a similar trip, but it will be a two-day excursion involving an overnight stay.
It's too much driving to go to Ithaca and back in one day from NYC. But it's do-able from most points in northern New Jersey. So we NJ folks have two options if we want to piggyback on the arrangements being made by our New York friends: Some of us could sign up for the Saturday tour, drive up to Ithaca in the morning, eat dinner with the New York participants, then drive back to New Jersey at night. Others might want to allocate the weekend and join in with the full two-day program.
In either case, it's always of value to see the progress being made at Ithaca. Established in 1995 and located on 175 acres, EVI is an award-winning (and one of the most well-known) ecovillages in North America. Over 22 years it has developed into a large and fully functioning community. Buildings and landscape, farms and gardens, roads and paths, governance structures and group process, and — most importantly — relationships, are created and cared for. In November 2014, EVI's third and newest neighborhood was awarded a coveted Zero-Energy-Ready Home certification by the US Department of Energy.
Learn more about EVI here: http://ecovillageithaca.org
The October 21st and 22nd tours will include an eco-psychology walk, background on how EVI began, and Q&A sessions on community development. There will also be in-depth, hands-on workshops on green building, local food, and community building. For details, cost, and sign-up info, click the event listing below. Please RSVP to secure your spot since space is limited. RSVP deadline is October 13.
Want to Carpool? Sign up here to offer a ride or indicate that you are looking for one — but if you want a ride it's up to you to reach out to the person(s) nearest you and make arrangements with them. Please note that you may need a separate ride there and  back depending on whether you plan to return the same day or stay overnight.
To view carpool sign-up results go here: https://docs.google.com/spreadsheets/d/1C7cehTdCoBA-DcKCOU1kqsYg33EKu6ZrN1fr2uSUwHA/edit#gid=65223317.